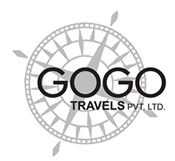 Welcome to GoGo Travels
It all begins with our name Go Go. It propels up to move. To Grow. It motivates us to take up challenges, go on a discovery process. It was this determination that we plunged into the world of travel in 1986.
We specialize in leisure travels, corporate travel management, travel insurances, visas, car rentals and customized packages. Our uniqueness lies in the fact that we take you to places far beyond the regular. We want you to explore the hidden areas that are rich in natural exquisiteness and cultural beauty. From honeymoons, safaris, spas and group bookings, GoGo lives by the motto - Explore the unknown
GoGo Travels is proud to be a P.S.A of Taj Tours London, which enables us to offer you the best rates, a wide variety of tours and offers and of course, the wealth of experience that our travel advisors have.
GoGo Travels in a registered member of TAFI and IATA (Membership number: 14347804)
Gogo travels is PSA for Taj Tours